SIZE SPECS: 60deg,

1-1/16"

cutting dia, 1/4" shank,

59/64" Cutting Length, 

2-3/8" overall length.

MUTI MATERIALS FIT dealing wood materials like plywood, MDF, particle board, hardwoods, softwoods Boards, etc.

V-GROOVE ROUTER BIT: This "V" grooving bit is designed to cut deep or shallow 45-degree "V" grooves.

THE CARBIDE CUTTER: Cut more stable and fast due to the welded solid carbide cutter (blade) tip on the bit.

PERSONAL AND INDUSTRIAL USE: Premium Carbide and high-quality steel, suit for CNC and other automatic routers, hand-held, table-mounted portable routers also.
Safety Guidelines
BE CAREFUL. Always wear eye and ear protection along with dust masks. Avoid using bits while in loose clothing. Keep hands, body, clothing and hair away from the cutter. Do not remove safety guards, and be sure to always feed against the cutter rotation. Never use dull or damaged cutters. Disconnect power when changing bits or making adjustments, and  always leave the power disconnected when not in use. Follow all safety recommendations of the power tool manufacturer. SpeTool Company assumes no responsibility for defects, damage, or injury (direct or indirect) caused by misuse, abuse, alteration or modification
of any product (including sharpening).  
WARNING: Re-grinding of SpeTool products will produce dust of potentially hazardous ingredients. Always read and follow owner's safety manual of all power machinery before using bits. Always use eye protection while using this or any carbide cutting product.  
WARNING: SpeTool products can expose you to chemicals including lead and/or cobalt, which are known to the State of California to cause cancer and birth defects or other reproductive harm. For more information go to http://www.P65Warnings.ca.gov.  
WARNING: Drilling, sanding or machining wood products can expose you to wood dust, a ubstance known to the State of California to cause cancer. Avoid inhaling wood dust or use a mask or other safeguards for personal protection. For more information go to http://www.P65Warnings.ca.gov.
Industrial Quality
Made of premium YG-G carbide ,with high hardess and good wear resistance, sharp edge ensure smooth cutting.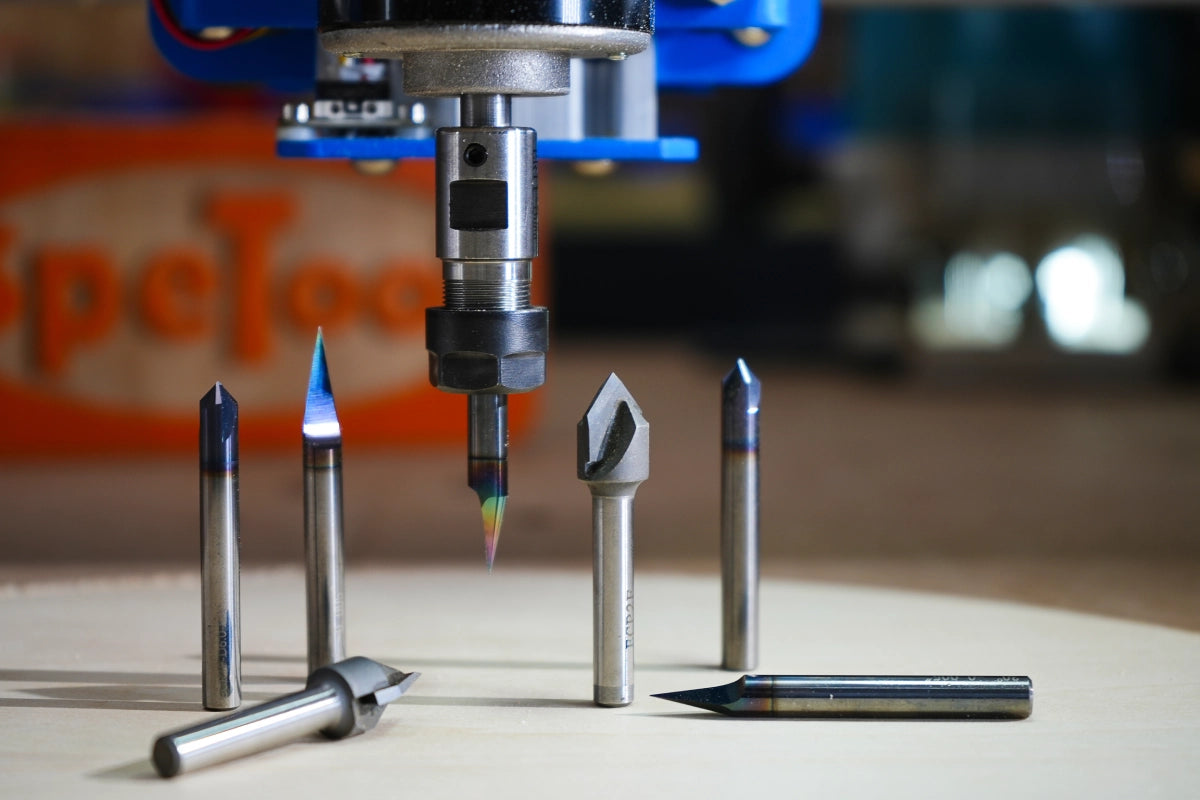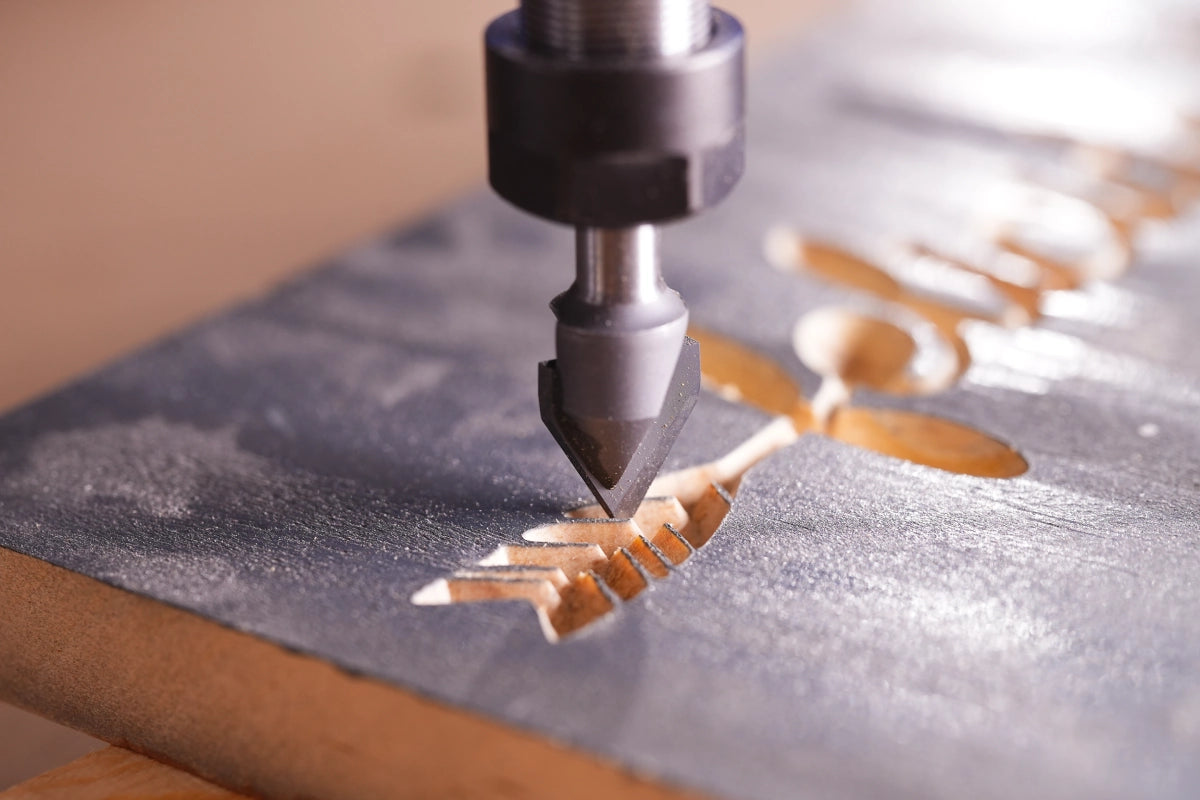 V Bit Design
One Piece cutter design make cutting more stable and fast ,Thick blade will provide a long cutting life
Excellent for Detail Work
V-groove bit is a great alternative to a small diameter straight cutter in engraving very fine detail
CNC Software.tool Files Available
Fusion 360™, Vectric® & Carveco® CNC Tool File For Download, click here!
Product title
$19.99 USD | $24.99 USD
Product title
$19.99 USD | $24.99 USD
Product title
$19.99 USD | $24.99 USD
Product title
$19.99 USD | $24.99 USD
Nice bit!!
The bit cuts very well. I like the replaceable blade too for when the tip breaks or gets dull.
The speeds and feeds database does not include this bit, so I've had to guess on the appropriate speed and feed rates.
Amazing bit!
SpeTool is a new comer to the router bit and CNC industry and are battling names like Amana, Whiteside, Freud, etc. and I must say, they hold their weight! The packaging was great, fulfillment was great, for the part you've been waiting for, performance of the bit was exactly what I was expecting and what SpeTool claims. I did a couple of 1 hour carves on my OneFitity Journeyman with a 2.2KW water cooled spindle and it just chewed through the maple and oak I tested it with like it was sugar pine! I was doing some pretty aggressive cuts with some very aggressive feeds and speeds and it did not chatter or "whimper" at the challenge.
I am very happy that SpeTool put the extra effort in to populate the database for the popular CAD/CAM softwares out there such as the Vectric Ltd. product line. This is one of the reasons why I typically do not go for some of the other brands out there because it can be monotonous trying to sift through manufacturer's websites to try to populate your own tool database within your preferred application.
I can say quality and use-wise, thus far, this bit is comparable with the Amana RC-1045. Based on everything this far, I will continue to purchase router and CNC bits from SpeTool!