The SpeTool Cratos Series Machinist-Grade Router Sled, also known as the Wood Slab Flattening Mill, is the ultimate solution for woodworking enthusiasts looking for exceptional value, easy assembly, and precise performance. Crafted for small wood shops and DIY warriors with limited space, it offers a cost-effective alternative to expensive CNC machines and industrial planers, which can be far beyond the budget of many, ranging from $10,000 to $70,000.
Constructed from 6065 high-strength anodized aluminum alloy, this router sled is built to last and resists deformation over time, ensuring a durable investment.
The ease of assembly is a standout feature, with a single person being able to complete installation in just about 30 minutes.
Thanks to laser-drilled pre-set positions, no tedious leveling is required.

With a maximum processing width of 120cm and a maximum processing height of 21cm, this router sled can handle a wide range of woodworking tasks. The base plate provides ample support, measuring 13x28cm.

The inclusion of non-marring thermoplastic rubber wheels ensures that the sled moves smoothly without vibration, preserving the quality of your work and reducing noise.
This router sled features three modes to meet various processing needs: a basic mode for thin boards, a block mode, and a fixed position mode for thick wood or wooden stakes. It's suitable for wood slab flattening, and resurfacing, as well as slotting and grooving.

The laser pre-set position for the Z-axis makes height adjustments effortless and precise, preventing slipping during operation. Two base plates are included, one with pre-set precise holes and another for DIY customization according to your router.

To enhance versatility and precision, this router sled jig adds two L-Carriages and adjustable knobs for work in the XY-axis directions. Four pre-set Z-axis positions allow you to fine-tune the sled's height, with each step set at 1-1/4 inches.

The SpeTool Cratos S01001 Machinist-Grade Router Sled is the ideal companion for woodworkers who demand quality, affordability, and ease of use, making it an essential tool for achieving outstanding woodworking results in limited space and without breaking the bank.
Installation video below:
Safety Guidelines
BE CAREFUL. Always wear eye and ear protection along with dust masks. Avoid using bits while in loose clothing. Keep hands, body, clothing and hair away from the cutter. Do not remove safety guards, and be sure to always feed against the cutter rotation. Never use dull or damaged cutters. Disconnect power when changing bits or making adjustments, and  always leave the power disconnected when not in use. Follow all safety recommendations of the power tool manufacturer. SpeTool Company assumes no responsibility for defects, damage, or injury (direct or indirect) caused by misuse, abuse, alteration or modification
of any product (including sharpening).  
WARNING: Re-grinding of SpeTool products will produce dust of potentially hazardous ingredients. Always read and follow owner's safety manual of all power machinery before using bits. Always use eye protection while using this or any carbide cutting product.  
WARNING: SpeTool products can expose you to chemicals including lead and/or cobalt, which are known to the State of California to cause cancer and birth defects or other reproductive harm. For more information go to http://www.P65Warnings.ca.gov.  
WARNING: Drilling, sanding or machining wood products can expose you to wood dust, a ubstance known to the State of California to cause cancer. Avoid inhaling wood dust or use a mask or other safeguards for personal protection. For more information go to http://www.P65Warnings.ca.gov.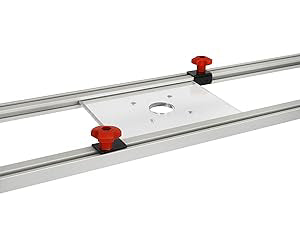 X-axle fixed router location
X-axle fixed router location by knob block

Range
Max adjustable width 120 cm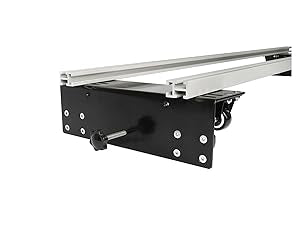 Y-axle fixed sled location
Y-axle fixed sled location by fix knob

Range
Unlimited workbench length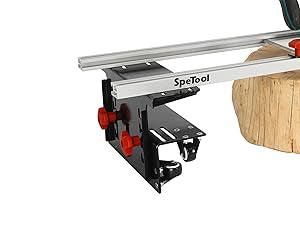 Z-axle height adjustment
Three model include Basic model, block model and fixed position model

Range
Basic model is 8cm height; lift model is 11.5~21cm height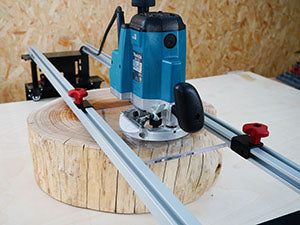 LONG LIFE

The rail is made of 6065 high-strength anodized aluminum alloy and support plate is made of premium steel with durable and not warp or twist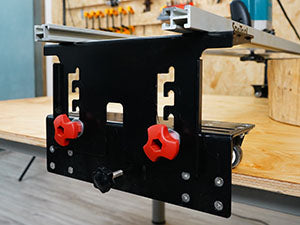 HIGH PRECISION

Laser precise drilling ensure router sled work perfectly and accurately
HIGH STABILITY

Premium steel L-carriages provide stable supporting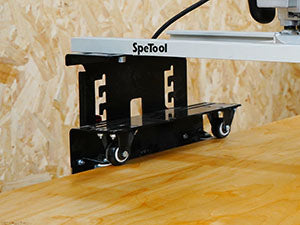 SMOOTH MOVING

The router fence is equipped with 8 fixture wheels ensure sled smooth moving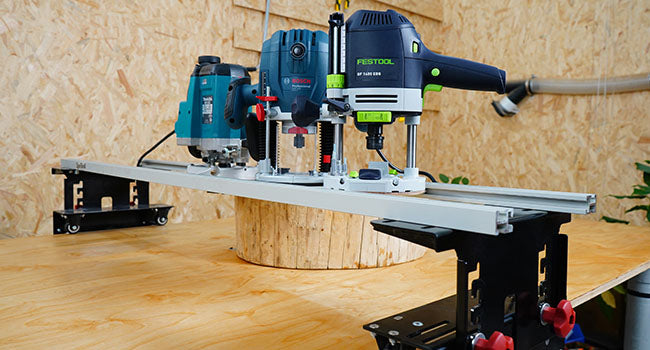 Multiple Adaptation

Slab Jigs are adjustable to fit most popular routers. you can DIY the router base plate according to the hole position at the bottom of your router tool. Base plate 13-28cm is suitable for our router sled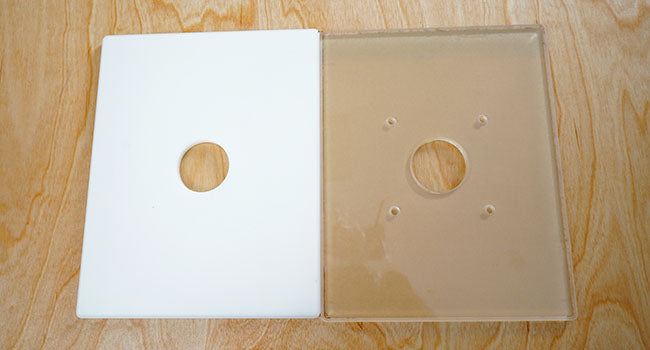 2 Router Base Plates

Come with 2 Router Base Plates. If the PMMA material base plate with hole is not suitable for your router , you can DIY the blank PA material base plate. its size 27.5x22cm.
Product title
$19.99 USD | $24.99 USD
Product title
$19.99 USD | $24.99 USD
Product title
$19.99 USD | $24.99 USD
Product title
$19.99 USD | $24.99 USD