Specification: 
| | |
| --- | --- |
| Shank Diameter(SD) | 1/4" |
| Tip Diameter(TD) | 0.015" |
| Overall Length(OVL) | 2-1/4" |
| Cutting Degree | 30° |
Overview: 
"V" Grooving bits are the perfect choice for making signs, engraving wood plaques, adding decorative accents to furniture, or adding visual interest to millwork. These cutters are simple tools that are used for chamfering or beveling any part in a wide variety of materials.
Can be used with handheld, table-mounted, and CNC routers.
The SPE-X new design coating could provide up to 2.5X normal life and a much more smooth cutting edge than others
Designed for cutting the following materials:
Safety Guidelines
BE CAREFUL. Always wear eye and ear protection along with dust masks. Avoid using bits while in loose clothing. Keep hands, body, clothing and hair away from the cutter. Do not remove safety guards, and be sure to always feed against the cutter rotation. Never use dull or damaged cutters. Disconnect power when changing bits or making adjustments, and  always leave the power disconnected when not in use. Follow all safety recommendations of the power tool manufacturer. SpeTool Company assumes no responsibility for defects, damage, or injury (direct or indirect) caused by misuse, abuse, alteration or modification
of any product (including sharpening).  
WARNING: Re-grinding of SpeTool products will produce dust of potentially hazardous ingredients. Always read and follow owner's safety manual of all power machinery before using bits. Always use eye protection while using this or any carbide cutting product.  
WARNING: SpeTool products can expose you to chemicals including lead and/or cobalt, which are known to the State of California to cause cancer and birth defects or other reproductive harm. For more information go to http://www.P65Warnings.ca.gov.  
WARNING: Drilling, sanding or machining wood products can expose you to wood dust, a ubstance known to the State of California to cause cancer. Avoid inhaling wood dust or use a mask or other safeguards for personal protection. For more information go to http://www.P65Warnings.ca.gov.
Industrial Quality
Made of premium YG-G carbide ,with high hardess and good wear resistance, sharp edge ensure smooth cutting.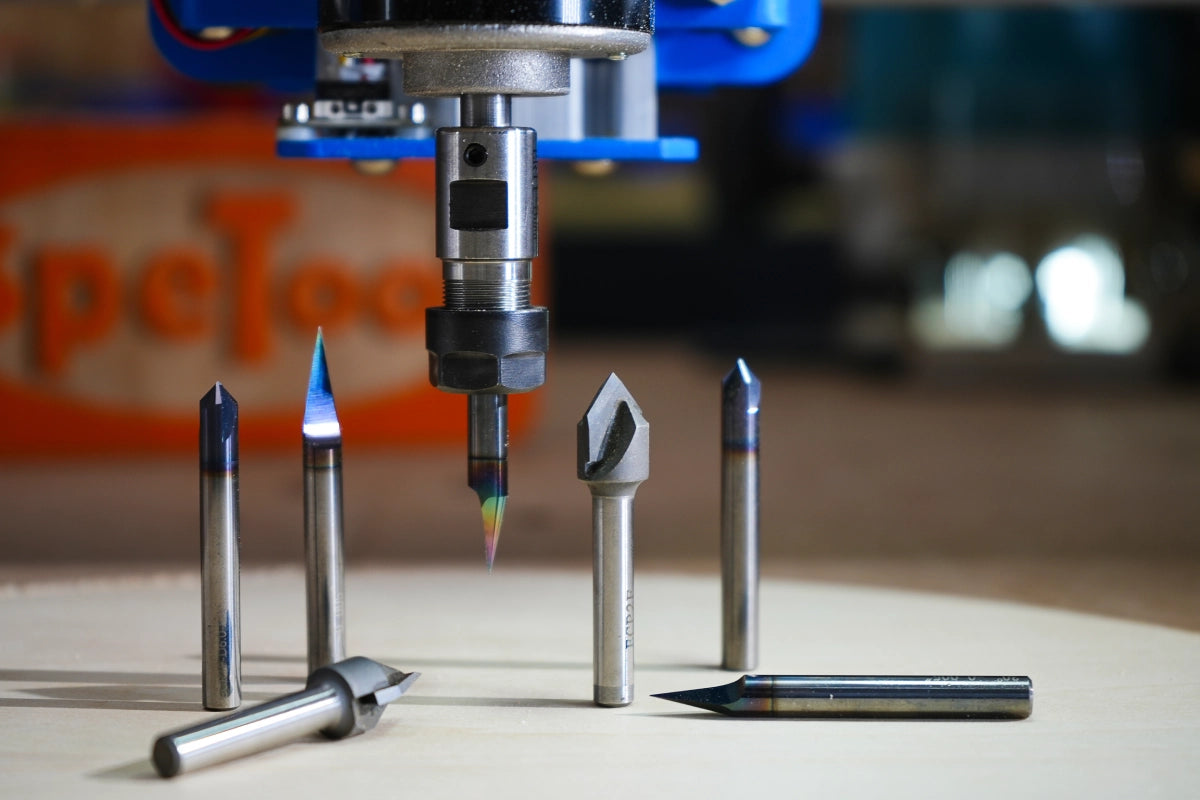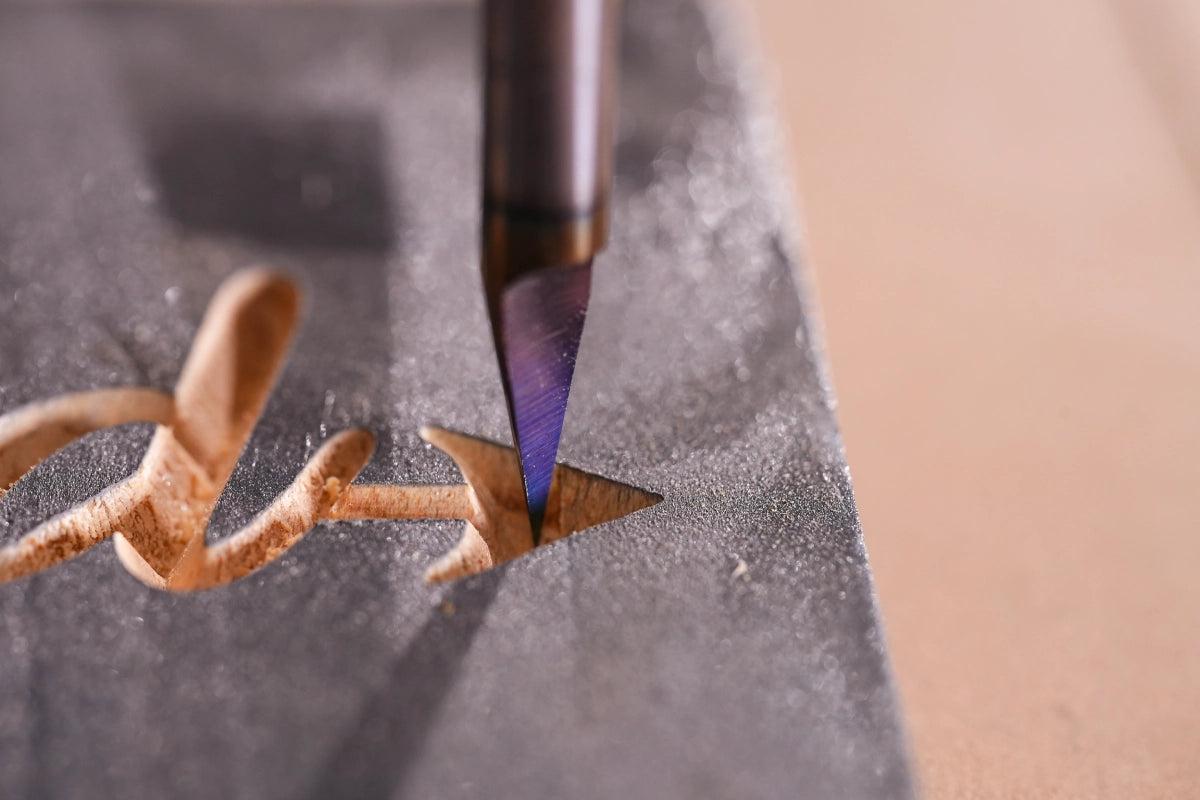 SPE-X Coated
The SPE-X micro-thin coating provides extreme hardness and heat resistance to the router bit, and with a brilliant distinctively tinted coloring.
Excellent for Detail Work
Made engraved designs, lettering, and more come to life.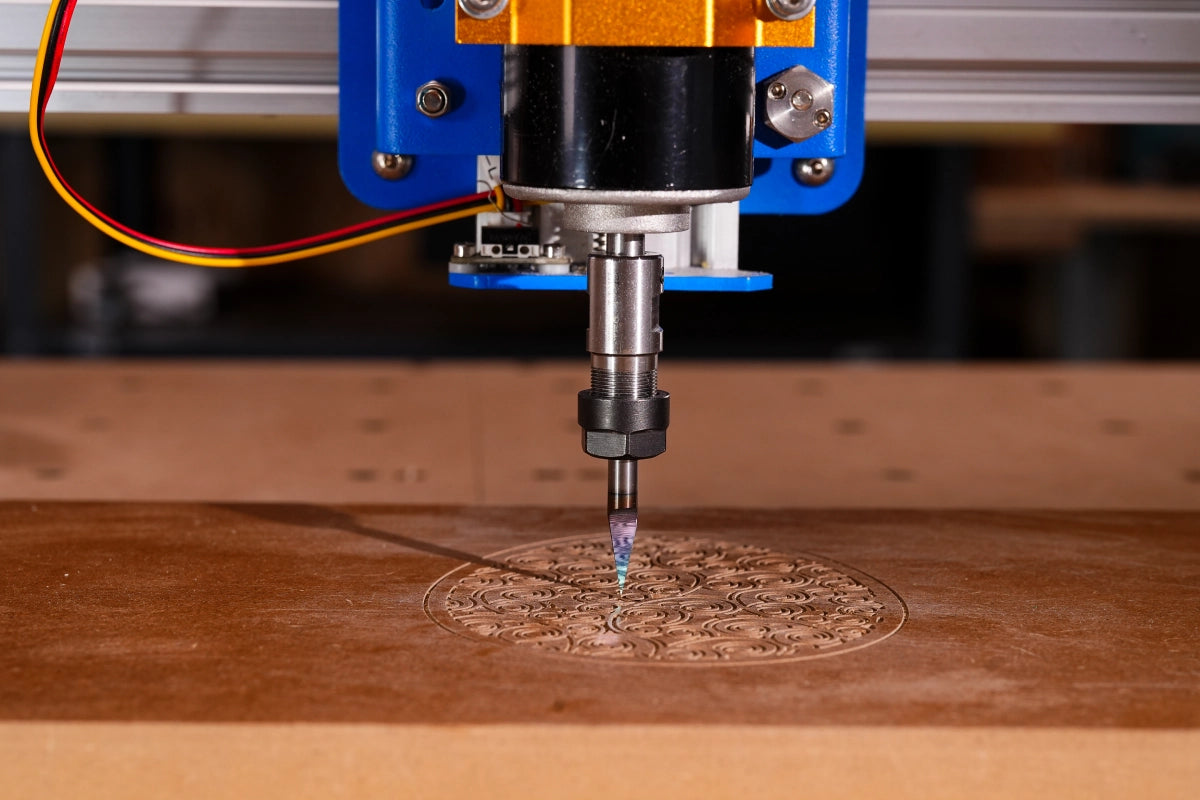 CNC Software.tool Files Available
Fusion 360™, Vectric® & Carveco® CNC Tool File For Download, click here!
Product title
$19.99 USD | $24.99 USD
Product title
$19.99 USD | $24.99 USD
Product title
$19.99 USD | $24.99 USD
Product title
$19.99 USD | $24.99 USD
Spetool bits are a real value outlast all others even those at twice the price
Always on time deliv - bits outlast all others even those at twice the price